Announced earlier this morning, the NHL released the rosters for the 2011 NHL All-Star Game and the 12 rookies that will participate in the Rookie Challenge.
Amongst the list of NHL greats were Marc Staal for defense and Henrik Lundqvist for goaltenders. King Henrik was one of the only six goalies selected and this is his 2nd time as an All-Star. Hank is on pace to have another stellar year with currently his best save percentage ever and his best GAA since 2008. With 5 shut outs already, Lundy is looking down the barrel of another Vezina Trophy nomination.
Staal will play in the East vs. West game for the first time in his young career and, man, has he earned it. On pace for a career year, Staal already has 6 goals, 3 coming via the power play and another 2 short-handed. Points-wise he's headed to slightly better his career high of 8 goals and 27 points last season with 6 and 17 already, respectively. Marc had this to say to nhl.com:
"It's been on my mind a bit," Staal said Tuesday night before the Rangers faced the Montreal Canadiens at Madison Square Garden.

"Throughout each game it's never on your mind. You concentrate on playing hockey. It's special that it's in Carolina. It's pretty cool. My family will all be down there. It should make for a fun weekend."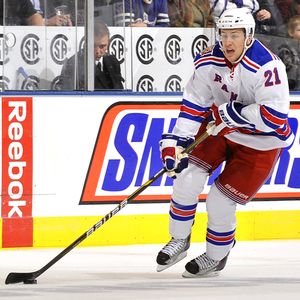 Derek Stepan was announced as one of the twelve rookies nominated to participate in the Honda NHL SuperSkills. Steps had a slow start after his now well known opening day hat trick, but around mid November started getting used to NHL play and put some point streaks together. In November, Stepan had a 6-game point streak and a 5-game point streak in December that included 4-straight games with goals. The rookie Blueshirt is creating chatter of "Rookie of the Year" with his tie for 3rd amongst NHL rooks in goals AND points.
If that dream were to occur, it would be the 1st Ranger to win NHL Rookie of the Year since 1988-1989 when legendary Brian Leetch took the Calder Memorial back to New York.
You know who I'm surprised didn't make the All-Star Game?
Dubs and Girardi.
Brandon Dubinsky is having the season of his life right now and at some points has carried the Rangers while Gabby is having his normal injury problems. Dubs only needs 8 points to have a career year and with 39 games left in the season, I feel like that is entirely possible. And only needs 4 goals to have his 2nd 20-goal season of his young career, whilst also occurring in back-to-back seasons. The man is on all units notching goals even strength, short-handed, and on the power play. He has a shooting percentage of 14.5%, his highest ever. Simply put, the kid has been a beast this year for the Rangers. He's my next jersey acquisition.
And why not Girardi either? Dan Girardi is dominating the blocked shots category with 125 already. He's on pace to have 238 blocked shots by the end of the season. To pit that into perspective, Dennis Seidenberg lead the league last season on Boston and ended up with 215. Time will only tell with Girardi when it comes to that particular category, but that's not the only thing he does on the ice. He's taken an expanded role this season and has a +5 plus/minus which is quite shocking as we haven't seen DG have a positive plus/minus since the 2006-2007 season when he was a rookie in 34 games played. That's not just it, he has 20 points at the moment, and with 28 being his career high his sophomore season, it's safe to say he's going to break out this year.
2011 should be good for our young Blueshirts.
Tags: 2011 NHL All-Star Game Brandon Dubinsky Dan Girardi Derek Stepan Henrik Lundqvist Marc Staal