New York Rangers: Mika Zibanejad pushes team and himself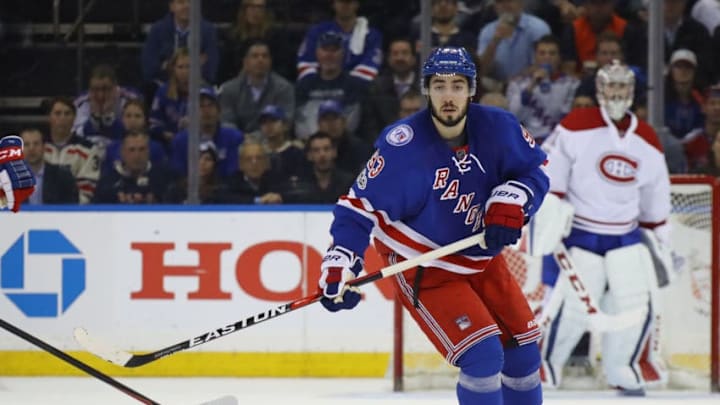 NEW YORK, NY - APRIL 18: Mika Zibanejad /
After signing a five-year, $26.75 million deal, New York Rangers forward Mika Zibanejad is proving his worth.
The New York Rangers have posted a 4-7-2 record in their first 13 games of the 2017-2018 season. Despite this lack of wins, center Mika Zibanejad is pushing forward and leading the team.
While Zibanejad is among the top 20 goal scorers in the league,  he leads the New York Rangers with a total of eight goals. Zibanejad also has the most power play goals and most shots on the team.
 Shots by game
Mika Zibanejad, so far, has taken 47 shots on goal this season. He is averaging just over 3.6 shots on goal per game. His 47 shots lead the team, followed by Rick Nash.  Nash is behind by one shot, with a total of 46.
By game, Zibanejad has taken his most shots on both October 5, versus the Colorado Avalanche , and on October 17, versus the Pittsburgh Penguins. He had eight shots on goal in both of those games. The next most shots taken was on October 23 against the San Jose Sharks, where he took six shots. The only two games he didn't take shots on so far were October 21 versus the Nashville Predators and on October 13 against the Columbus Blue Jackets
On the other hand, out of all games played so far, defenseman Marc Staal has taken only seven, which is the fewest amounts of shots on the team.
Related Story: The need for Chris Kreider offensively.
Power-play value
Something the New York Rangers tend to struggle with is their power play. Sometimes it's really good, sometimes it's not so good. This season, so far, it has been going rather well. Now with almost one month of the season complete, the New York Rangers have 11 power play goals.
Zibanejad leads the team with five of those 11 goals. This means that out of his eight goals, only three of them were even strength. Below him, Chris Kreider and Pavel Buchnevich have two power play goals each while J.T. Miller and Kevin Shattenkirk have one each.
Aside from his amount of power play goals, Zibanejad has the most power play points on the team, with seven.
Related Story: There is no center to be had
Hard work pays off
As of right now, Zibanejad is working hard enough to be playing on the top line, between Chris Kreider and Pavel Buchnevich. Right now, he is winning just over half of his face-offs with a face-off percentage of 51.84%. That puts him fifth out of all players, but third out of all centers.
His average time on ice is high as well, at an average of 18:55 at this point in the season. He has the fourth average time on ice of the entire team. Ahead of him are defensemen Ryan McDonagh (23:28 average time on ice) and Kevin Shattenkirk (21:28) and right wing Mats Zuccarello (19:38.)
The last important number with Zibanejad is, well, zero. The number zero is important in this case, the case of penalty minutes. He is one of only four players to not take a penalty yet this season. This is good in retrospect because you cannot play hockey if you are siting in the penalty box.
He also leads the team in points, with a combined total of 13. This averages him at one point per game.
Next: Five potential replacements for Alain Vigneault
On a nightly basis, a name you always hear is Zibanejad. Whether it's about the shots he's taking, or the goal he just scored, or even the face-off he just won, his name is always one that is there.
From game to game, Mika Zibanejad is taking all that he has to offer and putting it right on the ice. He is giving his best, pushing himself forward and in turn, pushing the team forward as well.