Playoff Picture/Lottery Look for New Year's Eve, Monday, December 31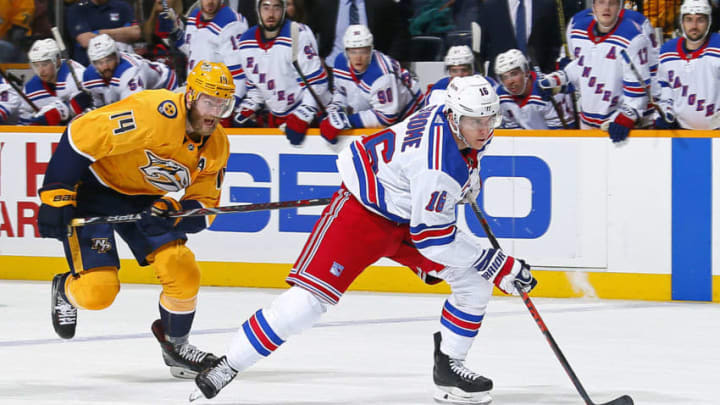 NASHVILLE, TENNESSEE - DECEMBER 29: Ryan Strome #16 of the New York Rangers skates past Mattias Ekholm #14 of the Nashville Predators for a breakaway chance during the second period at Bridgestone Arena on December 29, 2018 in Nashville, Tennessee. (Photo by Frederick Breedon/Getty Images) /
NASHVILLE, TN – DECEMBER 29: Ryan Johansen #92 of the Nashville Predators collects a loose puck on the side fo the net against Henrik Lundqvist #30 of the New York Rangers at Bridgestone Arena on December 29, 2018 in Nashville, Tennessee. (Photo by John Russell/NHLI via Getty Images) /
A sleepy Sunday in the NHL with only one Western Conference game, one day after the busiest day of the season.   The one game had absolutely no effect on the New York Rangers's playoff aspirations, but did have a minor influence on their lottery positioning.
The best hockey to watch today was at the WJC and we will lead off with a report on how the future New York Rangers fared before we get into the playoffs and lottery sections.
WJC Update
With a slow NHL day, let's recap the one game involving New York Rangers prospects.   It was a primetime match between Switzerland (Nico Gross) and Russia (Vitali Kravtsov) and it was a doozy.  Switzerland jumped out to a quick lead and were up by as much as 3-1.  Russia scored four straight goals and added three late third period goals to seal the win 7-4.
The second period saw one of the strangest segments you will ever see in a hockey game as Switzerland was awarded two penalty shots on the same breakaway. After Marco Lehmann mised both shots the Swiss team was handed a five minute power play when Ivan Muranov got tossed for butt ending a Swiss player.  For a moment it looked like Ranger prospect Kravtsov was going to be ejected, but they cleared up the case of mistaken identity and he continued in the game. At any rate, Switzerland failed to score and then allowed Russia to score a shorthanded goal to seal the victory.
Vitali Kravtsov had an excellent game. He got a primary assist on the Russians's second goal with a marvelous saucer pass to Grigori Denisenko who one-timed the shot.  He also scored the last goal for Russian when he put in a rebound as he trailed the play into the zone. He had 19:35 of ice time and took a team leading seven shots.
Nico Gross played only 11 minutes for Switzerland with no points and he was plus one.
There are three huge games on Monday to determine quarterfinal seeding.  Nils Lundkvist and Sweden take on Kazakhstan at 630pm as they look to clinch top spot in Group B.  Kravtsov and team Russia takes on Canada at 8pm.  Both teams are undefeated so it will be a good one. Finally, Team USA and K'Andre Miller take on Finland at 1030pm to determine second place in Group B.
All games will be televised on the NHL Network.
The Playoff Picture
Okay, back to the NHL and we'll start by updating the playoff race.  "The Athletic's" daily predictions of playoff contention had the Rangers with an 8% chance of making the playoffs. Here are the standings, unchanged by Sunday's game:
The standings
Atlantic Div.  GP    W-L-OTL      PTS    ROW
Tampa             39     30-7-2          62       27
Toronto           39     26-11-2       54       26
Buffalo            39     21-12-6       48      18
Met Div.         GP      W-L-OTL     PTS   ROW
Washington   37      24-10-3       51     21
Columbus       38      22-13-3       47     22
Pittsburgh     38      20-12-6        46     19
Wild Card       GP       W-L-OTL      PTS  ROW
Boston            39      21-14-4        46    20
Montreal         39     20-14-5        45     18
Contenders   GP      W-L-OTL      PTS  ROW
Islanders        37       20-13-4      44     18
Rangers         37        16-14-7      39     11
Florida            36        16-15-6      38     15
Detroit            40       15-19-6       36     13
Carolina          37       15-17-5       35     14
New Jersey    37       14-16-7       35     14
Philadelphia  37       15-17-5       34     13
Ottawa           39       15-20-4       34     15
Who to root for:
It's a busy New Year's Eve in the NHL with 13 games. Eight of the games are of playoff consequences.  Here they are in order of importance.
Rangers @ Blues – The  Rangers need to beat one of the worst teams in the league.
Penguins @ Wild – The Penguins have been winning and that is not helping the Rangers playoff aspirations.  Minnesota beat Winnipeg on the road Saturday, is it asking too much for them to beat Pittsburgh at home?  Go Minnesota!
Canadiens @ Stars  – Hopefully the scolding Dallas got from ownership has spurred them on.  The Rangers need them to beat Montreal, one team standing between them and the wild card.
Senators @ Blue Jackets – Columbus is eight points up on the Rangers, though NY has a game in hand.  An Ottawa win would be very helpful.
Islanders @ Sabres – After beating Toronto on the road, the Isles will be looking to build a winning streak.  Root for Buffalo to stop them in their tracks.  The Rangers are still five points behind the Isles and need to make up that ground.
Canucks @ Devils – The Devils are four points behind the Rangers.  Root for Vancouver to beat the annoying Devils.
Panthers @ Red Wings, Flyers @ Hurricanes – All four of these teams are outside the playoff picture and virtually tied.  These games are toss ups.   I guess you root for the teams you hate the least.
Okay, that's a look at the games that will impact the Rangers' playoff position and hopes.  If you think the playoffs are a pipedream, keep reading to see how the draft lottery competition looks. If not,  stop reading.