New York Rangers: Brendan Lemieux is rapidly becoming a crowd favorite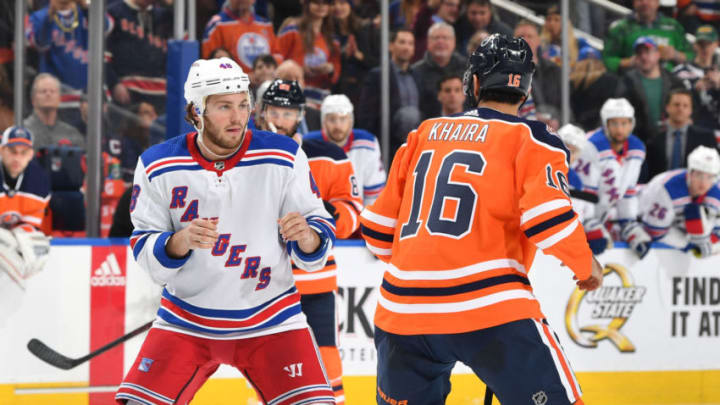 EDMONTON, AB - MARCH 11: Jujhar Khaira #16 of the Edmonton Oilers drops his gloves to fight Brendan Lemieux #48 of the New York Rangers on March 11, 2019 at Rogers Place in Edmonton, Alberta, Canada. (Photo by Andy Devlin/NHLI via Getty Images) /
There were plenty of tears shed when the New York Rangers announced that fans' favorite Mats Zuccarello was traded to the Dallas Stars, and not just from Henrik Lundqvist either.
Zuccarello had become the darling of Madison Square Garden ever since his arrival on Broadway in 2010 . signed by the New York Rangers as an undrafted free agent, with his infectious personality and tenacious play winning him an army of admirers.
Hugely popular both in the stands and in the locker room, Zuccarello was crowned the winner of the Steven MacDonald Extra Effort Award on three separate occasions (2013-14, 2015-16, 2016-17) – an honor dished out to the player who goes above and beyond the call of duty.
Despite his small stature, he stands at just 5'8″,  Zuccarello more often than not came up clutch for the Rangers and his 352 points (113 goals, 239 assists) in 509 games provided Blueshirts fans with a plethora of fond memories.
But Zuccarello is gone following his trade to the Dallas Stars last month and the New York Rangers faithful are now longing for a new hero to salute.
Could that be Brendan Lemieux?
Although he only arrived in the Big Apple at the trade deadline as part of the deal that saw Kevin Hayes head to the Winnipeg Jets, Lemieux has already made quite the impact in a Rangers jersey.
The 23-year-old, son of four-time Stanley Cup champion Claude Lemieux, brings a bucketload of energy and grit with him to New York and his hustle and bustle style of play has already made him a popular figure both on and off the ice.
Lemieux, who celebrates his birthday today,  is the perfect type of player for Head Coach David Quinn in terms of how he wants his team to play in an aggressive and in your face style.
He hits like a train, checks hard and puts one hell of a shift in every time he's on the ice, which is exactly what Quinn demands from every single one of his players, regardless of their stature in the locker room, as you can see in the video below.

The Rangers have lacked an enforcer or agitator type of player at points this season but Lemieux has slotted into that role seamlessly so far, coming up big for his new team to deliver a jolt of energy when they most need it.
This was perfectly demonstrated during the 3-2 overtime loss to the Edmonton Oilers on Tuesday when Lemieux helped himself to a 'Gordie Howe Hat Trick', tying the score at one apiece with a thunderous slapshot, assisting on Brett Howden's tally and then dropping the gloves with Jujhar Khaira for good measure.
And what a tilt it was.
He is already developing a reputation and was called for an undeserved match penalty against Vancouver. He was penalized for intent to injure when Antoine Roussel  tripped and fell into Lemieux.
The league has yet to rescind the match penalty, even though Roussel's injury was to his knee and not to his head.
However, and perhaps one of the most exciting and intriguing aspects about Lemieux is that he doesn't lack for skill or talent either.
Playing predominately on a third line with Howden and Pavel Buchnevich, Lemieux has showed flashes of his offensive upside, putting up 5 points (2 goals, 3 assists) in 8 games with the Rangers to go along with the 9 goals and 2 assists he tallied for the Winnipeg Jets earlier in the season.
There is certainly lots more to come too.
As Quinn continues to give his latest young project more ice time – Lemieux averaged just 7:25 minutes per game for the Jets but is now getting around 11:24 for the Rangers – then the tenacious left-wing will only continue to grow and hopefully flourish in this current system and with other studs around him.
It is a perfect dress rehearsal for next season where the stage is now set for Lemieux to step forward and take on an even bigger supporting role as one of the bright young talents of this rebuild.
Rangers fans, like their Head Coach Quinn, loves players who pour their heart and soul into every single shift and sweat blood and tears for the jersey.
That's why they took Zuccarello in as one of their own.
And, should he continue to deliver on the promise and effort he has shown in his first few weeks as a New York Ranger, then don't be surprised to see plenty of Brendan Lemieux jerseys in and around Madison Square Garden in the not too distant future.