Looking ahead at the December schedule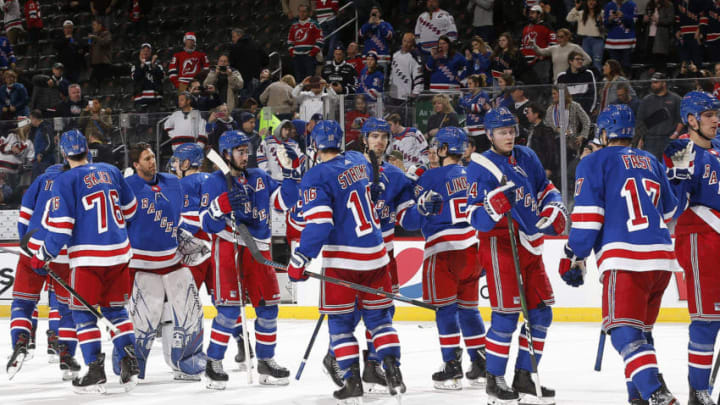 The New York Rangers react after defeating the New Jersey Devils /
Brady Skjei #76,Jesper Fast #17 and Jacob Trouba #8 of the New York Rangers /
The New York Rangers concluded a successful month of November, going  9-4-3 . They are in 6th place in the Metropolitan Division, only three points out of the last wild card spot. It doesn't get any easier in December, a month with more road than home games including a west coast trip.
November was a very good month for the New York Rangers.  It was busy with 16 games after a very quiet October.  December won't be a make or break month for the Blueshirts, but it will go a long way towards determining if the Rangers are playoff contenders or pretenders.
The schedule is a little lighter, with 14 games.  Six will be at Madison Square Garden and eight will be on the road.   The month feature a four game west coast road trip and three sets of back-to-back games.
The competition is not the toughest in December.  Although the Rangers will be playing eight games against teams that made the playoffs last season, only two teams they are facing are in the top third of NHL teams.  Both of those games, against Philadelphia and Edmonton, will be on the road later in the month.
The have five games against the teams in the bottom third of the NHL.  That means seven games against teams in the middle of the pack, precisely where the Rangers reside.  If the team expects to make a playoff  push, those are games they need to win.
Of the 14 games, only three are against Metropolitan Division teams (Columbus, Philadelphia and Carolina) and they have three games against Atlantic Division team (Montreal,Toronto twice) , so there are not many of the proverbial "four point" games in December.
There is one extended road trip and that is the annual west coast trip with a new addition this season, it starts in Las Vegas. They have  had mixed success on their California trips. Last season they won two of three, their first winning record in four seasons.
One oddity of the schedule is that the Rangers will play both Vegas and Anaheim twice in December, wrapping up their season series with those two teams.
Games of significance include their December 5th match in Columbus, when Artemi Panarin makes his first return trip to his former home.  On December 23, the Rangers travel to Philadelphia to face former teammate Kevin Hayes and former coach, Alain Vigneault.
While the Rangers have an outstanding record in the month of November, their December record isn't too shabby either.  Since the 2004-05 lockout, the Rangers have a record of 88-61-23.  In the last five years, it is 34-20-10.
If the Blueshirts can keep their winning ways going, it is very possible they could say goodbye to this decade within striking distance of the playoffs if not already in a playoff spot.   Since their four game losing streak in early October, they have lost only five out of 19 games in regulation with a record of 11-5-3.  That's the record of a playoff contender.
December schedule (all times EST)
Monday, Dec 2, 2019  vs  Vegas,  7:00 pm
Thursday, Dec 5, 2019 @  Columbus. 7:00 pm
Friday, Dec 6, 2019 vs  Montreal,  7:00 pm
Sunday, Dec 8, 2019 @  Vegas,  7:00 pm
Tuesday, Dec 10, 2019  @  Los Angeles, 10:30 pm
Thursday, Dec 12, 2019  @  San Jose, 10:30 pm
Saturday, Dec 14, 2019 @  Anaheim, 4:00 pm
Monday, Dec 16, 2019  vs Nashville,  7:00 pm
Friday, Dec 20, 2019 vs  Toronto, 7:00 pm
Sunday, Dec 22, 2019 vs Anaheim, 12:30 pm
Monday, Dec 23, 2019  @  Philadelphia,  7:00 pm
Friday, Dec 27, 2019  vs Carolina,   7:00 pm
Saturday, Dec 28, 2019  @  Toronto,   7:00 pm
Tuesday, Dec 31, 2019  @   Edmonton,   9:00 pm