Drury cleans house firing David Quinn and his staff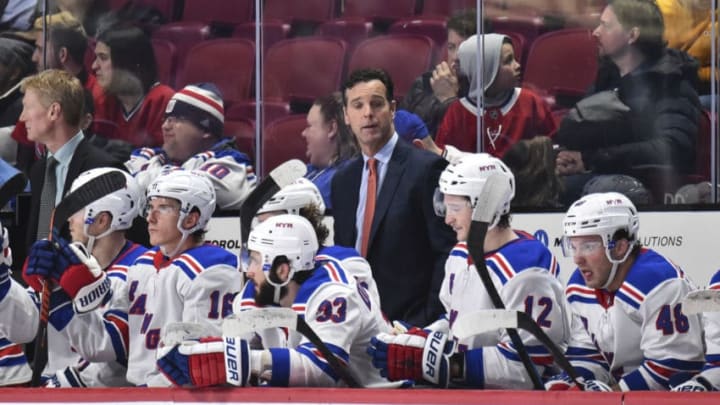 Head coach of the New York Rangers David Quinn. (Photo by Minas Panagiotakis/Getty Images) /
You could say that this was inevitable, as Chris Drury pulled the trigger on his most important piece of housekeeping and fired David Quinn and all of his assistants except goalie coach Benoit Allaire.   Was it a surprise?  Not really.  As the new boss, Chris Drury wants the man he picks to be the guy to take the New York Rangers to the next level.
Who will be the next coach?  It is much too early to say.  While Drury may have someone in mind, it's likely that he will take his time to make this decision.   As we've mentioned previously, the Rangers  hired Quinn six weeks after firing Alain Vigneault. If they had waited a bit longer, they could have had a shot at Barry Trotz.
Drury took his time filling the coaching position in Hartford.  He fired Ken Gernander on May 16, 2017 and didn't hire Kris Knoblauch until July 29, over two months later.
Why Quinn was fired
We will never know the real reason that Quinn was fired.  It could simply have been that Jim Dolan insisted on it when he gave Drury the job.
The more logical reason is that Drury simply felt that Quinn was not the right choice to take the Rangers to the next level.  Quinn was hired as a developmental coach and now the key job qualification is the ability to get a team into the playoffs and go for a long run.
The fact that the Rangers didn't make the post season this year was a factor, but it was probably the decisiveness in how they were beaten in the Stanley Cup Qualifier last August that said a lot.  Combine that with the awful showings in key games late in the season and all the signs pointed to a Quinn exit.
One thing that was obvious about Quinn compared to other NHL coaches was that he seemed to be unable to adapt to a schedule that saw teams play the same opponent over and over.  In interviews, coaches like Barry Trotz, Mike Sullivan and Peter Laviolette likened this season to the playoffs as they adapted game to game depending on how their teams performed.  Quinn didn't subscribe to that philosophy, at one point saying that he doesn't coach according to the schedule.
The jury is out on his ability to develop young players.  Supporters will point to Adam Fox, Ryan Lindgren and K'Andre Miller as examples of how he took young players and gave them important roles.
Detractors will say that he misused his young star talent like Alexis Lafrenière and Kaapo Kakko.  Young players like Libor Hajek didn't see a game until injuries forced him into action.  Julien Gauthier sat for an entire month while Quinn played an offensively challenged Brett Howden.
The handling of the Tony DeAngelo situation has to be laid at Quinn's feet.  While he got the talented defenseman to his best NHL season, he also abdicated responsibility for DeAngelo's behavior and forced Jeff Gorton into an untenable situation that resulted in the Rangers losing any chance of a return for DeAngelo in the trade market.
Finally, Quinn's lack of specificity when talking about his players was mind numbing.  When asked about player deployment or lineup decisions, his answers were always generalizations and gave no insight into his decision making.  If he talked to the  players the way he talked to the press. his reputation as a great communicator was exaggerated.
Who's next?
There are a lot of names on the list of possible coaches.  You can be sure that Drury will be taking a long look at coaches who have playoff experience.  John Tortorella, Mike Babcock, Claude Julien, Gerard Gallant, Patrick Roy and Bruce Boudreau are just a few of the names that have been mentioned.
Rick Tocchet is highly regarded.  Bob Hartley just won a KHL championship.  Rod Brind'amour still hasn't re-signed with Carolina.   And let's not forget Kris Knoblauch who was a Drury hire in Hartford and whose tenure filling in for Quinn certainly raised some eyebrows.
David Quinn leaves with a record of 96-87-25.  Those 96 wins places him in 11th place all-time among Blueshirts coaches.  He is the only coach in the history of the team who ran the team for 200 games or more and never made the Stanley Cup Playoffs.