Blake Wheeler's Broadway Calling: Why He Chose the Rangers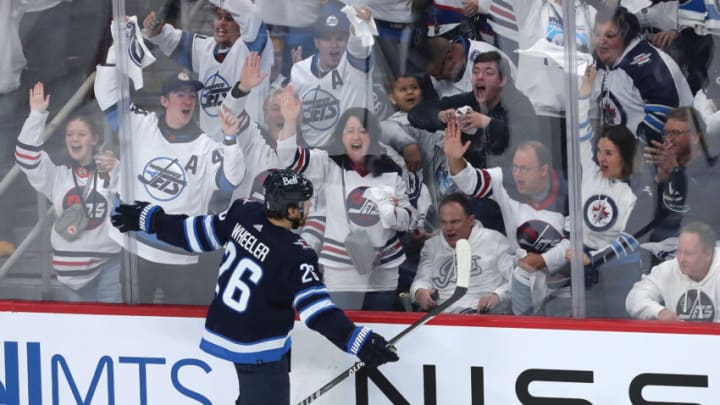 WINNIPEG, CANADA - APRIL 24: Blake Wheeler #26 of the Winnipeg Jets celebrates his goal during action against the Vegas Golden Knights in the first period of Game Four of the First Round of the 2023 Stanley Cup Playoffs on April 24, 2023 at Canada Life Centre in Winnipeg, Manitoba, Canada. (Photo by Jason Halstead/Getty Images) /
Discover the inspiring story of NHL veteran Blake Wheeler and his surprising decision to join the New York Rangers at a steep discount.
You know that part of the song "Empire State of Mind" that goes, "These streets will make you feel brand-new, big lights will inspire you, let's hear it for New York, New York"? Well, it's the part that convinced 37-year-old forward Blake Wheeler to join the New York Rangers this offseason.
Rangers' GM Chris Drury couldn't be happier about it. During his press conference at the MSG Training Center on Thursday, He mentioned, "I do think it speaks to, not only this place and what we offer him and what he thinks of our team – our city and our building and our fans – but I do think it speaks to him. He wasn't chasing every last dollar, where he could have in the market. He wanted to come here, and he had his reasons. We're thrilled he wanted to do it."
The Power of Passion and Sacrifice: Blake Wheeler's Bold Move to Broadway:
It wasn't your usual chat when Rangers' captain Jacob Trouba heard from his old teammate Blake Wheeler. This time, something felt different. "I think he didn't really understand why I was asking some of the questions I was asking," Wheeler said in July, and then it hit Trouba that this was for real. Wheeler signed with the Rangers for one year at $800K with an extra $300K in performance bonuses, quite the discount for a player with 922 career points.
So, why the discount? Wheeler explained, "When it came down to it, there were a lot of things that were attractive about the team, in particular a great lineup and roster full of great players. Madison Square Garden is my favorite place to play in the league."
He's still getting paid $2.75 million this season by the Winnipeg Jets, who bought him out from his previous 5X$ 8.25 million AAV contract. While he could have fetched more elsewhere, Wheeler chose the Rangers because he sees a Stanley Cup contender in the making.
Wheeler aims to fill a right-wing spot in the top six and is excited about it. "You just want an opportunity. I think if I can come in in good shape and be ready to roll from day one, hopefully, it's an opportunity I can earn."
With 16 goals and 55 points in 72 games last regular season, Wheeler's production hasn't declined much. His size, leadership, and ability to handle playoff physicality make him a valuable addition to the Rangers. He also brings playoff experience, posting two goals and six points in Winnipeig's five-game series against the eventual 2023 Stanley Cup Champions, the Vegas Golden Knights.
Drury couldn't be prouder of the acquisition, saying, "I feel very fortunate that a player like Blake Wheeler picked up the phone and wanted to come here, took my call and wanted to come here."
When Wheeler chose the Rangers, he wasn't chasing every last dollar. Instead, he prioritized playing for a team he believed in in a city he loved.
His decision teaches us that sometimes, it's not about the money; it's about finding the right fit. Wheeler's willingness to take a pay cut shows that chasing your dreams can sometimes be more rewarding than chasing a big paycheck.