New York Rangers Get Doubled-Up by the Dallas Stars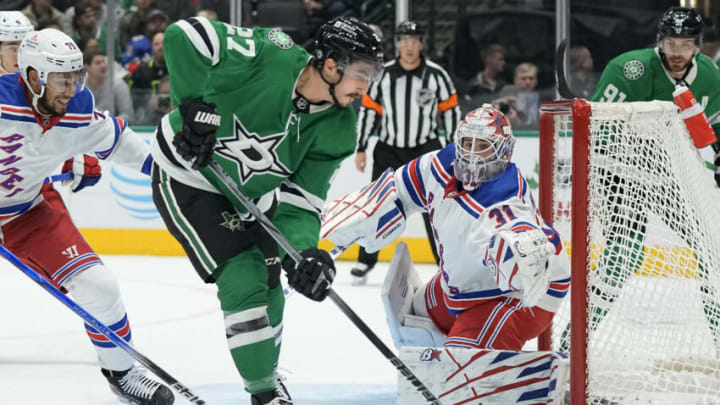 DALLAS, TEXAS - NOVEMBER 20: Igor Shesterkin #31 of the New York Rangers watches as Mason Marchment #27 of the Dallas Stars plays the puck in front of the net during the first period at American Airlines Center on November 20, 2023 in Dallas, Texas. (Photo by Sam Hodde/Getty Images) /
DALLAS, TEXAS – NOVEMBER 20: Igor Shesterkin #31 of the New York Rangers watches as Mason Marchment #27 of the Dallas Stars plays the puck in front of the net during the first period at American Airlines Center on November 20, 2023 in Dallas, Texas. (Photo by Sam Hodde/Getty Images) /
It was a challenging game for the Rangers in the end. A game that started so well quickly faded away. It was a defeat in Dallas as the Blueshirts fell to the Stars. We saw Artemi Panarin's point streak snapped, we saw the Rangers' 11-game point streak snapped, and we saw the end of the hot run New York had been on with this defeat in regulation at the hands of the Stars.
It started so well, with Vincent Trocheck finding a powerplay goal from a weird deflection to tuck the puck home on a wraparound attempt. Kreider and Gustafsson got the assists, and the Rangers walked out of a strong first-period performance at the American Airlines Center with a lead. They were in control, and it looked good.
It improved in the second period when Jacob Trouba found Kaapo Kakko. Kakko and Nick Bonino started playing catch until the Stars knocked the puck off of Kakko's stick and into the net to give the Rangers a 2-0 lead in the second period. It looked like a good performance, and the streaks would continue.
That is when disaster struck. Jamie Benn got the goal back when he broke into the zone with Hintz and Pavelski. It meant that the Rangers lead at the end of the second period was just 2-1. It wasn't the commanding position they had been in the minute before Benn got the Stars on the board.
Then, it was an uncharacteristic third-period collapse. Hintz dropped the puck for Heiskanen, who fired the puck at Igor. Shesterkin kicked a rebound so juicy that Gordon Ramsey is now serving it to Joe Pavelski, and now it is a tie game.
Mason Marchment then got the lead for the Stars in controversial fashion, smacking the puck home when it was in the equipment of Shesterkin. It was initially called no goal on the ice, but after a review, the referees determined it should count because… reasons I guess. It was a 3-2 lead, and the Stars would continue to pour it on.
Tyler Seguin got credited for a goal after a puck bounced around the crease, and Igor could not find it. Seguin then smacks Shesterkinw with his stick while the puck trickles in. It was called a goal on the ice, and a coach's challenge by Peter Laviolette failed to overturn it. It leads to the question, what is goaltender interference? Could we please tell the officials what goaltender interference is?
Sam Steel and Roope Hintz would both hit the empty net as the Rangers tried to get back into it. Barclay Goodrow got one pack with 16 seconds left to make it 6-3, but that was all she wrote as the Rangers tasted defeat in Dallas.