New York Rangers: Keeping things in perspective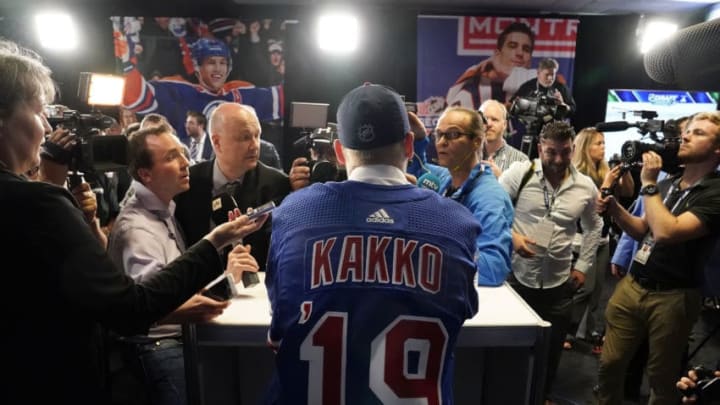 VANCOUVER, BRITISH COLUMBIA - JUNE 21: Kaapp Kakko speaks to the media after being selected second overall by the New York Rangers during the first round of the 2019 NHL Draft at Rogers Arena on June 21, 2019 in Vancouver, Canada. (Photo by Rich Lam/Getty Images) /
It's a pretty glorious time to be a New York Rangers fan right now, isn't it? After a magical offseason expectations are through the roof heading into 2019-20.
After a season that featured 50 losses and a plethora of growing pains, this summer has seen the New York Rangers hit home run after home run after home run.
Since releasing 'the letter' to their fans on Feb, 8, 2018, the front office led by General Manager Jeff Gorton have made a slew of shrewd moves in order to stockpile picks and high-end prospects.
It hasn't always been easy, though. Fan favorites and locker room leaders of the ilk of Ryan McDonagh, Rick Nash and Mats Zuccarello were traded away to contenders, while Kevin Hayes, who was nurtured and developed by the Blueshirts, was also dealt.
Out went the big hitters and in came a flurry of fresh faced rookies in their place, headlined by the likes of Lias Andersson and Filip Chytil, and guided by a first year head coach in David Quinn.
Despite Quinn's hands-on approach with the franchise's collection of budding young talent and his fearless approach to scratching underperforming players, stars and rookies, it wasn't always plain sailing for the team and for the fans watching from the stands.
But Gorton, Glen Sather and the rest of the Rangers hierarchy had faith in their grand plan and behind the scenes they were busy putting in place a succession of moves to really push this rebuild into full on turbocharge mode.
Following a second successive season without postseason hockey at Madison Square Garden, the Rangers adopted an aggressive approach and began to reshape both the immediate and long-term future of the franchise.
More from Blue Line Station
First, John Davidson was brought back home from the Columbus Blue Jackets to replace Sather as the President of NYR.
Then came the flurry of aggressive moves that has transformed the outlook for New York Rangers hockey.
Finnish phenom Kaapo Kakko was selected with the No.2 overall pick in the 2019 NHL Entry Draft as the Blueshirts' lottery luck finally turned for the better, before Gorton significantly bolstered the blueline with ambitious but impressive trades for Adam Fox and Jacob Trouba.
Trouba's arrival was noteworthy in itself given the 25-year-old's body of work with the Winnipeg Jets and his high upside, but even that didn't turn out to be the move of the offseason.
No, and despite the likes of the New York Islanders, Columbus Blue Jackets and the Colorado Avalanche all willing to stump up more dollars, the Rangers won the race to land the top prize of free agency in Artemi Panarin.
Panarin is an instant game-changer for this franchise given the elite powers he possesses and the firepower he'll be able to bring to the table for the Blueshirts in abundance.
With 320 points (116 goals, 204 assists) in 322 games, Panarin will transform the Rangers' offense and he'll also be a potent and formidable weapon on the power play.
However, adding a player who carries such a lofty reputation such as the 'Bread Man' will only serve to heighten expectations around Madison Square Garden, and that is something to be wary of.
For starters, Gorton and Davidson still have work to do when it comes to locking down Trouba to a long-term deal as well as thrashing out contracts with their litany of restricted free agents in Pavel Buchnevich, Brendan Lemieux and Tony DeAngelo.
Rome wasn't built in a day, after all.
And then you have to deal with the reality that the likes of Kakko and Vitali Kravtsov may need time to get used to the gruelling pace and the hustle and bustle nature of the NHL.
There is no guarantee that either player will hit the ground running in their rookie year, although Kakko certainly looks more equipped than most to be able to take the transition in his stride, and it is imperative that we give these young studs time to both find their groove and don't rush to heap expectations onto their youthful shoulders.
Acquiring a player of Panarin's caliber of course helps to ease the pressure on Kakko and Kravtsov, adding to the glut of reasons why it was such a smart pickup by the Rangers, but we still need to bide our time with the glut of young players currently making the leap to the NHL.
BOSTON, MA – APRIL 27: Columbus Blue Jackets left wing Artemi Panarin (9) reacts to his second goal of the game during Game 2 of the Second Round 2019 Stanley Cup Playoffs between the Boston Bruins and the Columbus Blue Jackets on April 27, 2019, at TD Garden in Boston, Massachusetts. (Photo by Fred Kfoury III/Icon Sportswire via Getty Images) /
This rebuild, or 'build' as members of the Rangers front office and coaching staff likes to call it now, is still in its infancy after all and, although mass rebuilds in sports aren't the gigantic and drawn out undertaking they once were, it is still important to let this process play out and take its natural course.
Surprises do happen, of course, just look at the New York Islanders last year but it is important to note they had an experienced head coach and an even more vastly experienced General Manager at the helm, not to mention a roster full of players who have been around the NHL long enough to know what to expect.
Both the Islanders and now the New Jersey Devils, following their own blockbuster summer after drafting Jack Hughes and picking up the likes of P.K. Subban and Wayne Simmonds, will have a chance to transform New York into the mecca of hockey, while returning the city to a status as one of the meaningful sporting powerhouses in America.
And the Rangers will have a big role to play in that too, but patience should be a virtue here and we shouldn't be disappointed if the Blueshirts don't make the postseason in 2019-20.
Empires are built on steady decisions and a solid foundation and the Rangers are building a Stanley Cup contender the right way.
This rebuild was always intended to help construct a team that could contend for multiple championships, not just win one and then shrink away into obscurity.
Panarin is here for the long haul and he'll certainly help to drive ticket and merchandise sales in addition to keeping the fans happy on the ice in the short term while his younger team-mates learn the ropes, allowing the likes of Kaako and Kravtsov ample time to hone their craft as NHL players at their own pace.
Make no mistake about it, this Rangers team as it is currently constituted will be a hell of a lot of fun to watch next year and, in all likelihood, will win a lot more games and make the season much more interesting, especially if Henrik Lundqvist returns to vintage Henrik Lundqvist.
But the objective and the mission are still the same. Rebuild this franchise from the ground floor up and focus on developing talent that can eventually help this team become a dynasty and write its own glorious chapter in hockey history.
So, while it is fine to get excited about the year ahead and be caught up in Panarin and Kakko fever, there is a bigger story at play here and it is of paramount importance that we keep that in mind.
It is fun to be a New York Rangers fan and this Original Six franchise appears to be on the cusp of a return to glory, but it was never intended for that to take place this year.
As a result, and as they say in the MLB, let the kids play, let them grow, let them learn from their mistakes and, most importantly, let them have fun and all the rest will fall into place.