Which Rangers team should we expect day in and day out?
With Artemi Panarin, Jacob Trouba, Kaapo Kakko, and Adam Fox now onboard, many expected the formerly rebuilding New York Rangers to take a step towards the Stanley Cup Playoffs this year. Early results have been, well, confusing, to say the least.
Inconsistencies have plagued the New York Rangers throughout their first 12 games, as they have gotten off to a mediocre start with a 5-6-1 record. David Quinn's bunch has shown two very different sides thus far.
There is the group that looks clueless inside their defensive-zone, plays with low intensity and consistently loses battles along the boards, rarely shoots the puck, and can't seem to maintain a respectable level of play for anywhere close to 60 minutes.
This variation of the Rangers has been severely outplayed by the Edmonton Oilers, outworked by, the New Jersey Devils, shellacked by the Boston Bruins, and embarrassed by a the rebuilding Ottawa Senators .
But there has also been a very different Blueshirts team that has shown up on other nights, and this version has found much more encouraging results. This group has adopted the fast, physical, and relentless style that David Quinn has preached since day one, they haven't been pinned inside their own zone for exorbitant amounts of time, they've shown creativity and looked dangerous in the offensive-zone, and most importantly, they have been dialed in for the full 60 minutes.
When the Rangers bring their 'A' game, they play a hard-working, gritty, structured, skilled, and fast-paced style, which has propelled them to victories over some of the NHL's best in the Tampa Bay Lightning, Nashville Predators, and Buffalo Sabres.
At the end of the day, consistency has been the issue through New York's first 11 contests. We probably should have expected this from a young team like the Rangers, and we must realize that some inconsistency with such an inexperienced group is natural.
However, the bigger problem is that the Blueshirts have been wildly inconsistent. They either have their 'A' game, or they have their 'F' game, and there is truly nothing in between. There have been flashes of a team that looks ready to compete for a playoff spot, and then there are other nights where it looks like this team is years away from relevancy.
This begs the question: Which team will we see going forward? Keep in mind, the Rangers have 71 more games to find some consistency and figure this thing out. But if the Boys in Blue can bring their 'A' game on a nightly basis, and eliminate their 'F' game from their repertoire, then this team can definitely do some damage. Are they playoff team this year?
I don't think they're quite ready for the postseason, but should they be in the conversation? Yes, they absolutely should. Again, this would entail the Rangers consistently playing high-level hockey, which is no small task for the youngest team in the NHL.
And while it won't be easy, it is reasonable to believe that the Blueshirts can play with this aforementioned consistency. All the tools are there.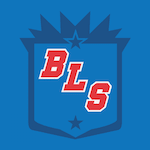 Want your voice heard? Join the Blue Line Station team!
Write for us!
There is lots of talent on the blue line, as guys like Adam Fox and Tony DeAngelo have really stepped up to take the load off the shoulders of Jacob Trouba and Brady Skjei.
The forwards, led by Mika Zibanejad and Artemi Panarin, are a group that is rich with skill and scoring-depth.
And last but not least, the Rangers have a coach that has proven to know how to get the best out of his players.
The personnel is in place, the formula is there. Now the Rangers must execute. Can they turn things around and make a push for the playoffs? Only time will tell.